I take my position here on Places Parallel very seriously, so when I heard that Slaughter, Quiet Riot, and Vince Neil were going to be playing nearby I felt it was my journalistic duty to catch the show (and that makes it tax deductible, right?). Since I had only found out about the show the day of, finding a person to go with was a bit difficult. Not sure why, I mean who wouldn't want to go see these guys?
Slaughter was up first, but we arrived a little late so we missed most of their set, but I did manage to record "
Up All Night
," where Mark Slaughter sang a good portion of the song in the audience.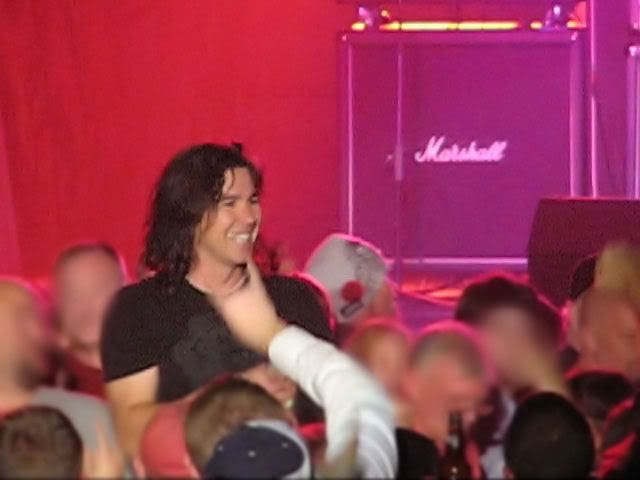 Now we were a little ways back from the stage but still I have to say that Mark looked pretty damned good. Can't say the same for
Kevin DuBrow
though, who was up next with Quiet Riot. I think it might be about time to hang up the leopard print pants and jacket. Or if he insists on wearing them, keep the jacket on because the sparkly scarf isn't hiding the pot belly. Kevin did have an amusing bit of wardrobe advice for Ms. Spears though before launching into "Old Habits Die Hard." I have to say I kind of like this song, too.
You'll have to excuse my inebriated friend for laughing so much but there was a VERY entertaining, completely trashed, Harley Davidson-looking guy in front of us who was completely rocking out. You can hear him screaming "ROCK-N-ROLL" throughout several of the videos, and at one point, he was actually howling at the stage. I wish I could have recorded all of his head-banging and dancing antics. At the end of it all, he'd broken the bleachers, but he didn't even break a sweat.
Come to think of it, the audience was almost as entertaining as the bands we'd come to see. It seemed most had shown up in their best "metal attire" for the occasion although I heavily suspect many just never stopped wearing it since the days it was in style. There were many women fashion disasters of the crispy bleach blond hair, lace tank tops, and stonewashed jeans variety but the men won out, hands down. There were a few there with long, long hair with 3inch thick folded bandannas (think
Axl Rose
but without the braids or scary face), there was at least one guy there in his high school class jacket, but the guy who takes the cake had a custom sleeveless shirt, matching wrist and head sweatbands, and a badly highlighted and spiked mullet. 100% total commitment, people. But enough of that, let's get back to the music!
Quiet Riot included "
Cum on Feel the Noize
" on their playlist, but it seems they were having some problems with the drum set. First it was feedback, and then some other technical difficulty that I wasn't really sure about. Then Kevin got a little cranky with the audience for not knowing the exact timing of the words. Whatevs, man. They finished out their time with the classic "Bang Your Head," and then it was time for Vince and Co.
Vince and the boys played most of Mötley Crüe's biggest hits--"
Same Ol' Situation
," "Dr. Feelgood," "Girls, Girls, Girls," "
Kickstart My Heart
," and "Wild Side.". Vince seemed to be a little winded at times, and then other times when he seemed lost for the words, he'd just yell, "Make some fucking noise!" All together, they ended up doing three encores. During one of the encores, only Vince left the stage, and the rest of the band did covers of Led Zeppelin's "Whole Lotta Love" and Black Sabbath's "War Pigs".
The drummer, Zoltan Chaney, was absolutely fucking insane! I'm not sure how much of it was standard drummer tricks, because most of the shows I've gone to the drummer is always hidden in smoke or behind loads of other junk, but this guy was awesome. He was juggling, twirling, and throwing his sticks, kicking the cymbals, and even jumping over the drum set after one song. I found myself watching him more than the rest of the band. If you find a minute in your day, I'd recommend checking out his somewhat crazy, albeit cute,
website
where you can see a couple more videos of him doing his thing.
My buddy and I had a blast, and it was a totally fun way to spend what would have otherwise been another boring evening. You can check out the pictures
here
.