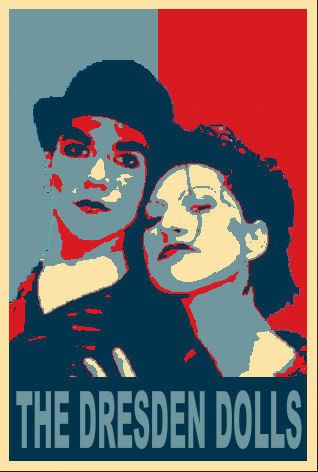 I recently received this email from the Dresden Dolls with some excellent news:



HOLA COMRADES!





we have the best news ever.





the dresden dolls are going to be playing in washington DC on the very historic night of barack obama's inauguration - january 20th, 2009 - in washington DC.





is this amazing?




this is so amazing.




you should come.





the event is going to be held at the 9:30 club, one of our favorite places to play EVER.





we are going to be on a bill with michael franti, talib kweli, the honey brothers (with adrian grenier), and jamie burke.





doors are at 8:00 PM.





the tickets cost $50.




presale is

HERE


password RTV




public sale is thursday at 10 AM at

www.tickets.com



let's start this new chapter of american - and world - history in style and with rock love.





AND.....




if you aren't already plugged into this (and you should be, aren't you on the obama mailing list?), the day before the inauguration (january 19th) is NATIONAL DAY of SERVICE.




gazillions of americans who run non-profit organizations are hosting events in YOUR area....and you probably have the day off.





from the site:




Every time our nation faces crisis, our national experience has shown Americans rise to the challenge. While government has an important role to play in helping rekindle our economy and addressing the problems of a distressed nation, President-elect Obama believes each of us, as Americans, have a responsibility to do what we can for our communities and fellow citizens. We are one nation.





check out the website and go do something awesome for your country on monday:


usaservice.org



this is it.





change starts now.





love




amanda & brian !
It's great to hear that Amanda and Brian will be playing together and I highly recommend anyone who is in the area or within driving distance to brave the weather and go, Go, GO! Watching
Obama's
inauguration and catching the Dolls all in a 24hour period...well, I can't think of a better way to spend a day.
Want to make your own Obama-
ized
picture like the Dolls at the top of this post, then check out
Obamicon

.Me
. It's kinda fun. I think you have to register for an account to get it to work. It has also been picking up quiet a bit of site traffic lately so loading your picture could take a minute or two but it's still something definitely worth checking out.