Okay, so this afternoon Maise and I had worked out an idea to throw together a hilarious photoshop of D:Angel, Angelcat, and Trent together on their hot air balloon ride that Angelman claims to have won from filling out the survey from the previous post. In our heads it would have been really funny (picture the three of them in
this balloon
) but tonight my hubby has trumped us.
Hubby is always the prankster and is pretty supportive when it comes to my NIN enthusiasm. Remember a few years ago when he
mowed the downward spiral
into our back lawn? Yeah, I thought that was cute. But I was not prepared when he came walking through the door tonight with this: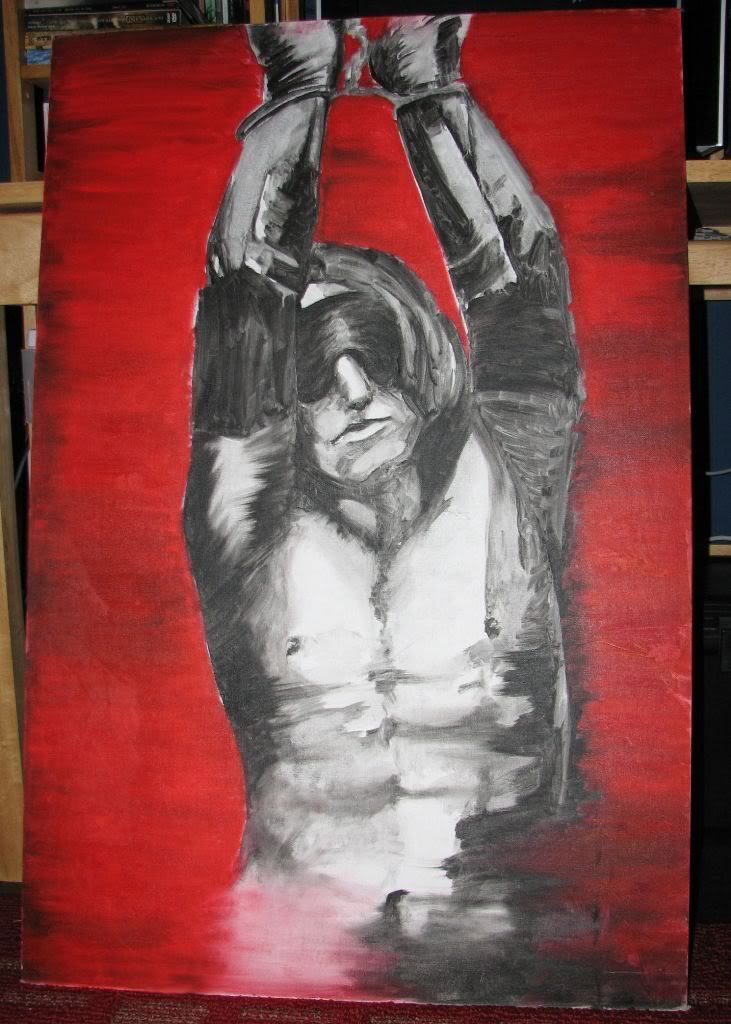 We are now the owners of a 24" x36" (61.0 x 91.4cm for our metric friends) oil portrait of Closer's Bondage Trent, otherwise know to the artist as "Trent. Ooh, baby".
Apparently this is what happens when hubby is left on his own and has time to kill between appointments in Iowa City. He tells me he found it in some consignment shop basement behind an assortment of beer lights and other discarded pictures. For $15 he said he couldn't resist a joke and laughed when it earned him a raised eyebrow from the blue-haired old lady working the register.
I laughed my ass off when I first saw it and have been giggling all night. Not that it isn't a pretty good rendering of dear Trent (much better than anything I could come up with) but what the fuck am I supposed to do with it now? Should I go total fangirl and hang it up with a
candle shelf shrine
below? Ironically enough it
does
go with the some of the colors in my recently redecorated "home office". Or should we hold some sort of Places Parallel contest in which this will be the prize? Or should I lug it along with Maise, Ro, and I to the next NIN show we attend, in hopes that we can get The Man to come out and autograph it and then return it to the artist, E.M., as a "Surprise! Guess where this has been?"
Hmm...decisions, decisions.