So as you may or may not know NIN has been nominated for a couple of Grammys this year. Best Rock Instrumental Performance for 34 Ghosts I-IV and Best Boxed or Special Limited Edition Package also for Ghosts I-IV.
We all know Trent has never been much of a fan. Remember last year's
short blurb
posted to nin.com? Seems he feels the same this year as he posted on his
Twitter account
a few hours ago:
"... and of course, I'm NOT going to the fucking Grammys."
But who can blame him? He usually gets snubbed and so far this year, unfortunately, seems to be no exception.
Rob Sheridan
is currently twittering from the Grammys and we've learned that so far NIN has lost to Radiohead in the Boxed category. Such a shame because Ghosts really is an incredibly lovely set. I still keep my copy protected in the original shipping box and plastic bag it came with from any haphazard spills, pet hair, or other accidents that could ruin it. One of these days when I'm not such a slob or so accident prone, I'll put it on display. Maybe.
Rob has taken it pretty gracefully (considering his previous displays of maturity) responding to someone on Twitter who said he should have won:
"I tend to agree (as objectively as possible), but Radiohead are Grammy darlings this year so that was completely expected."
Trent also weighs in on the loss:
"Ghosts DESTROYS In Rainbows deluxe package. No debate.
And I have to agree with him. I mean just look at them. Radiohead's kinda looks like something you would display on the fridge next to your children's other drawings brought home from school.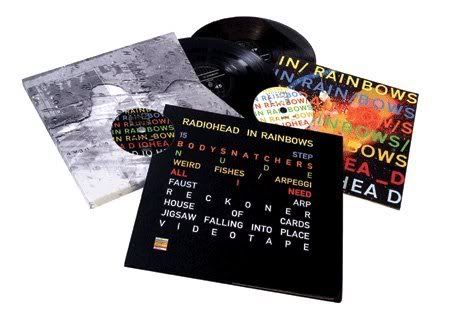 Whereas NIN's looks like something you'd actually want to display, perhaps in your living room under protective glass of course (remember I'm spill prone).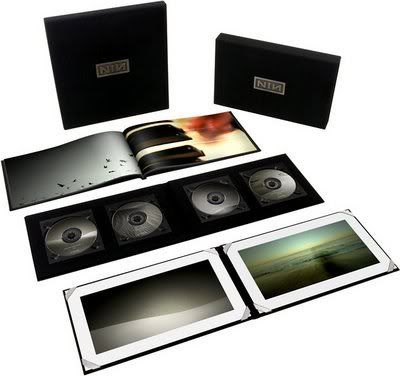 I think we still have a while before they get to Best Rock Instrumental Performance. Fingers crossed that NIN gets it or, at the very least, that Metallica doesn't win, although, they are rumored to be the favorites. *eyeroll*
Stay tuned...
Well fuck. NIN didn't win the other category either. It ended up going to "Peaches En Regalia", Frank Zappa. -sigh- Guess there's always next year.