The best birthday present in the WORLD (a.k.a. Ghosts Ultra-Deluxe Limited Edition set) just arrived today and I squealed like a little girl when I saw it on the front porch at lunch! I have seriously not been able to quit grinning all. day. long. Sure some people may believe I blew $300 but this is the most beautiful thing I own right now.
Seriously
.
When I first ordered it I had to find some way to justify the expense. I figured since Ghosts was an entirely instrumental album that there was no way they'd be touring with it
sooo
the money I normally would have spent on going to a show and never getting an autograph went to splurging on this little present to myself. And let me tell you, now that I have it in my hands, it was worth every fucking penny! AND, lucky me, NIN decided to play Lollapalooza this year which I was already planning on attending!
The package includes two high quality, fabric slipcases with metal NIN logos on the front and an attachment on the back listing the
individual number
. One slipcase contains three books: the album artwork (
autographed
!), two Giclee prints, and the 4 discs that include the album, the multi-tracks, and a Blu-ray disc (that I have yet to watch).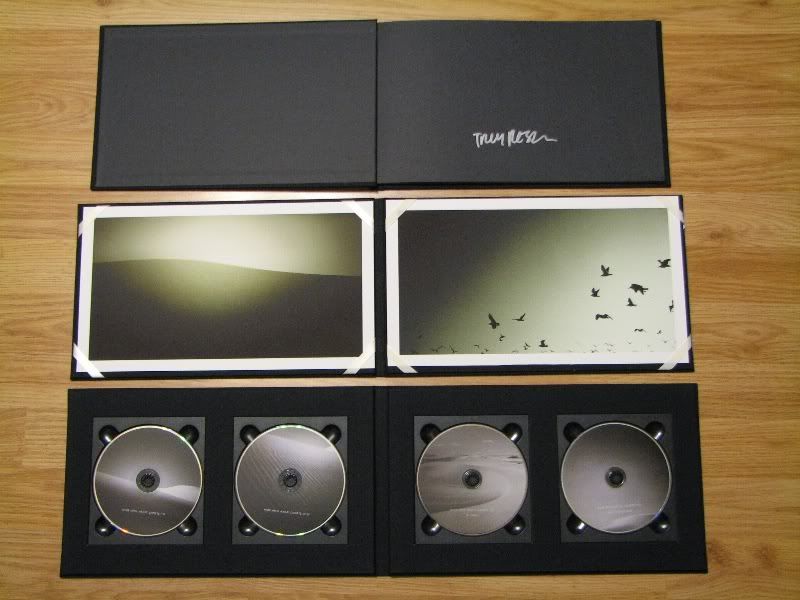 The other slipcase contains the four vinyl albums. I've never owned a vinyl album in my life but I do now. Isn't it pretty?
The artwork in the autographed book is basically the same as what was included in the .pdf filed embedded with the album download. The colors and quality though...
wow
...the images look like they could just pop right off the page. I didn't include any snapshots here because my camera skills would not do them justice but believe me they are gorgeous! You can check out the other pictures I took
here
. And, yes, I photographed each step of the unwrapping process like a total fangirl but I say if you can't be a fangirl over something like this then when can you, eh?