It's Robin Finck! And according to
nin.com
he's back in the NIN lineup. Hooray! Robin's looking good despite being with GnR for the past few years, although the beard makes him look a bit like a mountain goat.
Back in Jan of '05 Trent had this to say about Finck and his **cough, cough, shoddy, cough** replacement:
"Alessandro fit in immediately, but we looked all over for the right guitarist. In retrospect, I believe we were looking for someone to fill Robin's [Finck] shoes. When Aaron walked through the door, he pissed on Robin's shoes and kicked them out the door where they belong — effectively closing a chapter. A great chapter, but one that is in the past. This is a new entity that feels very fresh and vital."

I don't think I'm the only one who is glad that Trent is reopening this chapter. It will be interesting to see what Finck brings to the table after being away for almost 8 years. And I'm happy to say that we should be able to see him in action at Lolla this year. Only one more day until the official lineup release but
this leak
from the Sun-Times looks promising.
**EDIT**
This year's Lolla confirmation straight from the
horse's mouth
.
Also announced via the NIN
YouTube profile
is new band member Rich Fownes who will be taking over the position of bass man. Eerily, he kind of even
looks
like Jeordie but maybe just a younger version.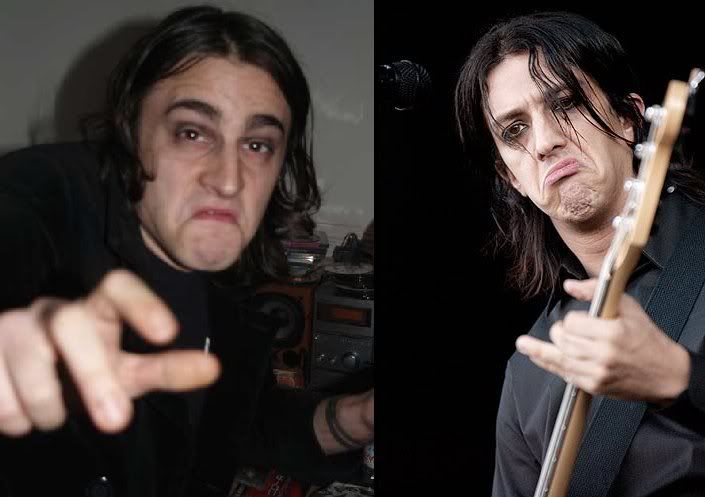 I think I'll just refer to him as Jeordie 2.0 from here on out. After briefly skimming his
myspace
account it seems he has a thing for John Candy and has been plucked from
The Eighties Matchbox B-Line Disaster
, a gothic rock psychobilly band.
The jury is still out on whether or not he'll be a more of less irritating presence than Aaron North. By all means, I hope Jeordie 2.0 brings a little debauchery to the band but I'll be disappointed if he just turns out to be another flying monkey boy like Aaron.