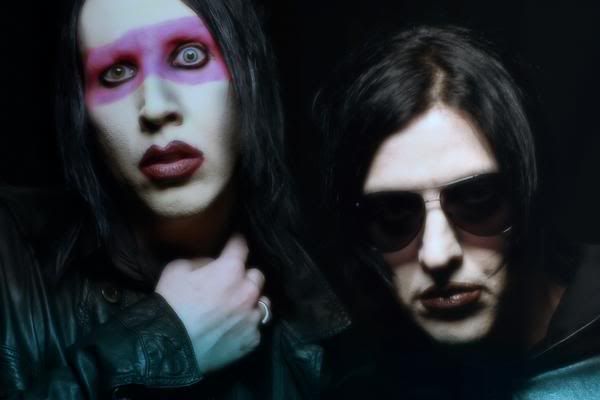 From Marilyn Manson's myspace:
The duo that started it all, are back together to finish where they left off. The two who co-wrote

"Antichrist Superstar," "Mechanical Animals,"

and "

Holywood"

will be sharing the stage once again.

Joining Manson and Twiggy onstage for the U.S. leg of the Rape of the World Tour will be Chris Vrenna, Rob Holliday, and Ginger Fish. Tim Skold has amicably split with Manson, but future collaborations aren't being ruled out between the two.

Expectations for the upcoming tour are best described by quoting one of Manson's most infamous lyrics, "Everyone will suffer now". Looks like the shit is gonna hit the FANS.
Great. That's just great, Jeordie. You're out of Trent's band for like 5 minutes and you're back in Manson's arms? Ah...well...maybe some good can come of this. Like shaving your eyebrows and ditching that shaggy, mullet-esque haircut you've been sporting for the past few years.
Honestly the time spent with El Rezzo really hasn't been Twiggy's most fashionable era. The hair, the
matching outfits
, the vapid stare on and off stage (are we
sure
he's off drugs?) just hasn't been all that interesting. But I think we can all agree here that back in the day dude looked
cute in a dress
.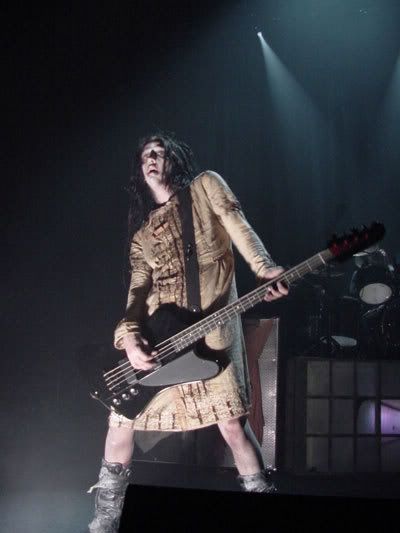 Well maybe not
always.
But his willingness to dork out with
Star Wars
has always been endearing. Whoops! I see your panties! Yes, ladies, I admit I kind of had a soft spot for Twiggy back when no one knew better. Any of you out there willing to admit it or am I in my own private Idaho here?
Perhaps it's a bit superficial to only think of style choices here on their "grand reunion" but really, does anyone
actually listen
to Manson anymore?
(stay tuned for the upcoming Dresden Dolls concert review by Maise.
For those wanting a sneak peek, look
here
.)