Man, dear readers, have I ever been in the doldrums lately! I've got an excruciating, relentless case of writer's block, and PMS is causing me to bloat and brood. And to top it all off, I lost my IPOD TOUCH on the streets of Chicago!!!
It was last Sunday; I was running late to meet up with a dear friend and was rushing towards the cafe where we were supposed to meet, carrying some unwieldy belated Christmas presents for her. My ipod (my precious!) must have fallen out of my pocket at some point because it wasn't in my purse, nor was it hiding in my car. And all I could think was, "Mr. Maise is going to KILL me!" Well, not
kill
, but he would be pretty pissed, seeing as this was my birthday/Christmas present. So clearly, I'd have to hatch some plot straight out of
I Love Lucy
to secretly buy a new one, and then I'd be out a few hundred bucks, and if it were lost out in the world somewhere, it would mean that someone would take it, keep it, and then laugh at my music, my video selections and
blackmail-material photos
before erasing it all and downloading Avril Lavigne or some shit. I felt naked and despondent.
But then, shortly after I returned home, I got an email from Iris who, along with Gabriel, had been listed as one of my contacts on my ipod. Apparently, someone had found it and was looking to return it! Oh joy! Ro and I will be meeting him tomorrow evening, during which my precious will be returned to me and I will buy my hero a lovely French dinner to thank him.
If this adventure were turned into a movie, it would star John Cusack.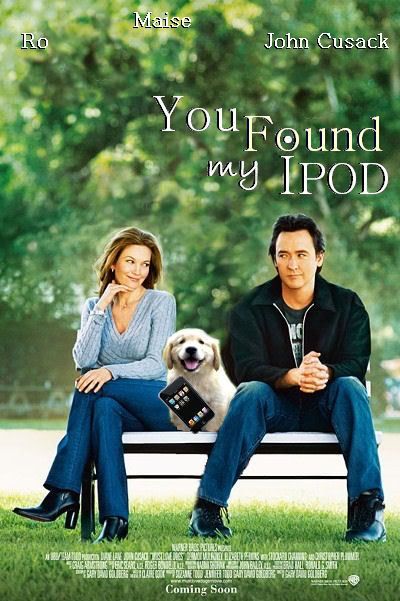 ANYWAY, you might be asking yourself, what does this have to do with the Dresden Dolls' latest performance in Chicago? Nothing! But despite my recent tales of woe, I simply must write this review because I'm developing an enormous guilt complex over it that is only exacerbating the writer's block.
The Dresden Dolls' first eponymous album was responsible for perserving much of my sanity during a very difficult time a year or so ago. Whenever I feel crappy, I always get in my car, drive, and sing "Good Day" at the top of my lungs (except for now, when I'm ipod-less). It's been a while since both Brian and Amanda have toured together, so Ro, Iris, Mr. Iris, and I were happy to report to the Vic Theater on Saturday, January 5th to see them in person.
Now, if you're planning to see the Dresden Dolls, do know that all manner of artsy, burlesque nonsense will be performed beforehand. The first act we saw, for example, was some performance art group performing some ballet version of "Romeo and Juliet" set to Britney Spears' "Toxic." Sigh. Can I get another beer?
Then Amanda explained that the Dresden Dolls were choosing fans to play opening songs for them, and at first I was filled with a sense of dread. Then this young woman, Molly Robison, just blew me away with unbridled awesomeness. Can you believe she's only 17? I can't. Her voice is soothing and hypnotic, and her song, "Yes, Amanda, Yes" is lovely and poignant. Check it out:
Seriously, people. LOVE.
You can check out her Myspace
here
. Remember her name because I'm certain we'll be hearing more from her soon!
So the Dresden Dolls take the stage and open with a chilling rendition of Pink Floyd's "In the Flesh." Brian's imitation of the original vocals is uncanny.
The Dolls played many of their favorites, ("
Miss Me
," "Girl Anachronism," "
Coin-Operated Boy
") as well as some new songs, including this one, "Sorry Bunch."
Brian and Amanda are never less than compelling onstage, even though Amanda appeared to be losing her voice. For my money, Brian is one of the best drummers in the business, and Amanda gives her all to songs that she must have performed about 5,000,000 times by now. In addition, they take audience participation to a new level. While performing "
The Gardener
," Amanda waded out into the crowd, until she wound up in one of the balconies. (I never noticed her feeling up the dead-looking girl until just now when I watched the video.) Towards the end of the show, Brian and Amanda took a page from Iggy Pop and allowed fans to join them onstage for a chaotic rendition of "You Gotta Fight for Your Right to Party." I love that their fans are gentle enough to let them perform this way without inordinate molestation.
I think if I had one minor criticism, it's that the middle of the set tends to sag with slow, ponderous songs that are light on Brian's thundering drums. And probably the 30-minute instrumental opening to "Half Jack" is overkill. But I think I can speak for the majority of the audience there that night and report that a fantastic time was had by all, and I strongly urge all of you to make a point to see the Dresdent Dolls when they come to your town!
For more Dresden Dolls clips and other Places Parallel exclusive videos, click
here
. For mouth-watering pictures of a half-naked Brian Viglione, I suggest you look
here
.